Adding Annotations
To annotate a file, follow the steps below:
---
Log in to your account using your Username and Password.
Navigate to the file you want to annotate. 
Click on the file name to open the preview screen. 

We support annotations for the following file types: doc(x), xls(x), ppt(x), pdf, txt, bmp, gif, jpg, jpeg, png, tif

Click Annotate if it's not already selected, and the annotations toolbar will appear below.
Annotation Options:
---
Highlight: Makes text stand out with your choice of colors
Underline: Underlines the text you select
Strikeout: Strikes the text out with a line through the center
Squiggly: For spelling and grammar issues
Note: Add your comments here
Free Text: Add text anywhere
Freehand: Draw anything you like
Shapes: Make lots of shapes

Rectangle (or Square): Draw a box anywhere
Ellipse (or Circle): Draw a circle anywhere
Polygon: Make a custom shape
Cloud: Add a familiar cloud symbol
Line: Make a straight line
Polyline: Make a series of connected line segments
Arrow: Make a straight line with an arrow

Insert

Signature: Digitally sign your name
Rubber Stamp: Some pre-made stamps for common uses
Stamp: Overlay an image file from your computer
File Attachment: Attach another file to this one
Callout: Easy callout template

Undo: Infinite Undo
Redo: Infinite Redo
Erase: Erases Annotations but not the original document
---
Download the annotated file:
You can download in any of these locations:
In the top right corner of the preview window.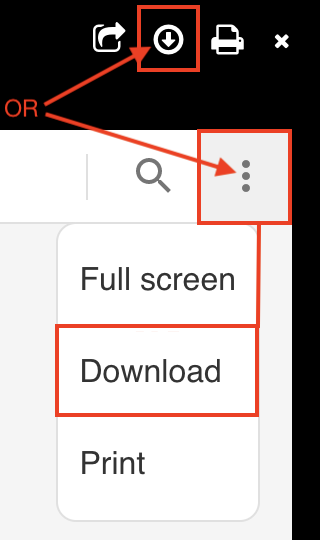 At the bottom of the page:

Or in the Files menu:

The annotated version will always be PDF format.
Download the original file:
Click on the down-arrow menu next to your file and select Download without Annotations.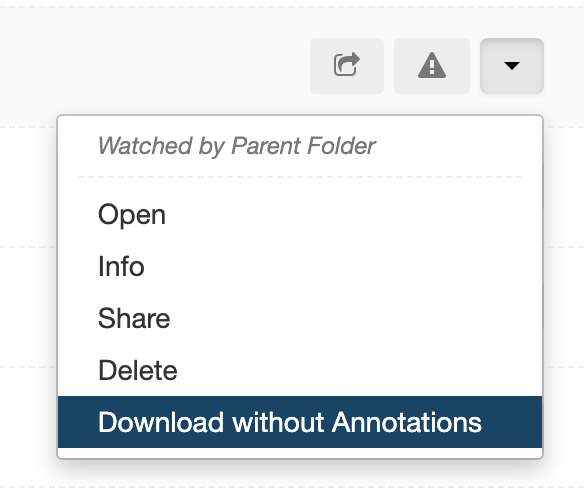 ---
You have now annotated your file, reviewed the annotation options, and downloaded the file.
---
---